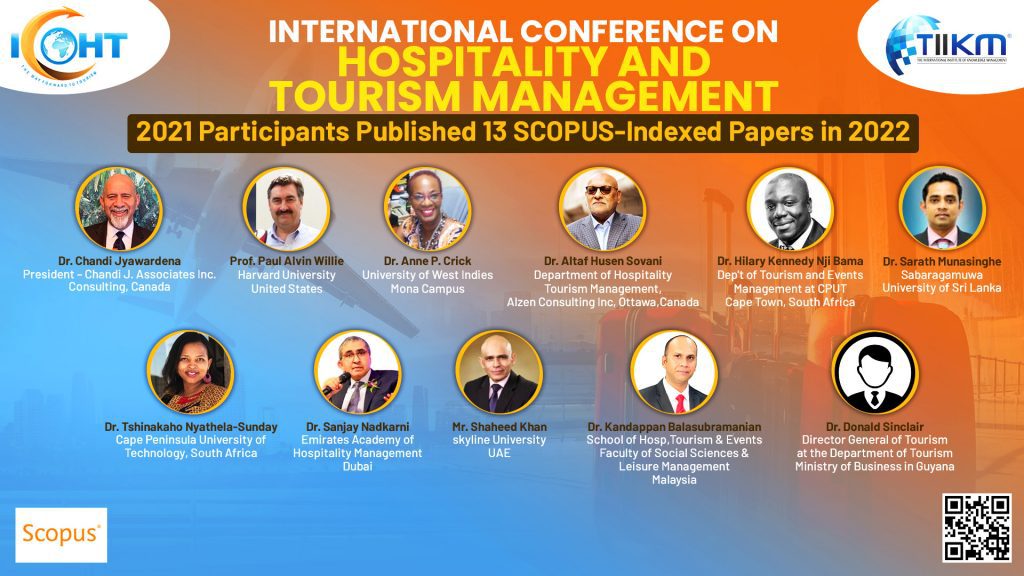 The 8th International Conference on Hospitality Management 2021 was held on 04th – 05th of November 2021 in a Virtual Platform under the theme of "Post-Pandemic Tourism & Hospitality". The International Institute of Knowledge Management takes pride in organizing and hosting the conference (TIIKM)
ICOHT 2021 consisted of over 60+ Participants from 25+ Countries around the world. The conference was represented by every continent providing a platform to share views and ideas on tourism and hospitality management, network with international colleagues, and made the conference a meaning full opportunity for engagement.
Out of ICOHT 2021 participants, thirteen participants published their full papers in the 𝐬𝐩𝐞𝐜𝐢𝐚𝐥 𝐢𝐬𝐬𝐮𝐞 𝐨𝐟 𝐖𝐨𝐫𝐥𝐝𝐰𝐢𝐝𝐞 𝐇𝐨𝐬𝐩𝐢𝐭𝐚𝐥𝐢𝐭𝐲 𝐚𝐧𝐝 𝐓𝐨𝐮𝐫𝐢𝐬𝐦 𝐓𝐡𝐞𝐦𝐞𝐬 𝐢𝐧 𝟐𝟎𝟐𝟐. The journal is indexed by Elsevier Scopus, and the special issue addresses what innovations would enable the tourism and hospitality industry to rebuild.
| | | |
| --- | --- | --- |
| Names | Affiliation | Article tittle |
| Chandi Jayawardena, Hiran Dinusha Gamachchi Vithanage | President – Chandi J. Associates Inc. Consulting, Canada | What innovations would enable tourism and hospitality industry to re-build? |
| Paul Alvin Willie, Chandi Jayawardena | Harvard University, United States | What innovations would assist the North American hospitality and tourism industry to recover? |
| Anne P. Crick | University of West Indies, Mona Campus | What innovations would enable the tourism and hospitality industry in the Caribbean to re-build? |
| Donald Sinclair, Camille Allison Ishmael | Director General of Tourism at the Department of Tourism, Ministry of Business in Guyana | What innovations would enable the tourism and hospitality industry in Guyana to re-build? |
| Altaf Husen Sovani | Department of Hospitality Tourism Management, Alzen Consulting Inc,. Ottawa, Canada | What innovations would enable the tourism and hospitality industry in the European Union to re-build? |
| Hilary Kennedy Nji Bama, Tshinakaho Nyathela-Sunday, Washington Makuzva | Dep't of Tourism and Events Management at CPUT, Cape Town, South Africa | What innovations would enable the tourism and hospitality industry in Africa to re-build? |
| Tshinakaho Nyathela-Sunday, Nina Septoe, Celiwe Zorah Menze, Ilhaam Banoobai-Anwar, Beverley Seager, Nadia Davids, Cindy Buser | Cape Peninsula University of  Technology, South Africa | What innovations would enable hospitality in South Africa to rebuild? |
| Sanjay Nadkarni, Inam Haider | Emirates Academy of Hospitality Management, Dubai | Digital transformation, operational efficiency and sustainability: innovation drivers for hospitality's rebound in the United Arab Emirates |
| Shaheed Khan, Swarna M. Freeda Maria | skyline University, UAE | What innovations would enable the tourism and hospitality industry in India to re-build? |
| Chandi Jayawardena | President – Chandi J. Associates Inc. Consulting, Canada | What innovations would enable tourism in Sri Lanka to re-build? |
| Kandappan Balasubramanian, Mohd Hafiz Hanafiah | School of Hosp,Tourism & Events Faculty of Social Sciences & Leisure Management, Malaysia | What innovations would enable the tourism and hospitality industry in Malaysia to rebuild? |
| Sarath Munasinghe, Lawrence Powell, Hanshika Madushani Herath, Rosemary A. Frey | Sabaragamuwa, University of Sri Lanka | Lessons for resilience building in tourism and hospitality: the case of New Zealand |
| Chandi Jayawardena | President – Chandi J. Associates Inc. Consulting, Canada | what innovations would enable the tourism and hospitality industry to re-build? |