The 8th International Conference on Social Sciences (ICOSS 2021) was successfully concluded on the 14th and 15th October 2021 in Virtual Platform under the theme "New Normal to a New Beginning: Formation of a Sustainable Society". The conference was organized by The International Institute of Knowledge Management (TIIKM) and International Association for Social Science and Humanities with the collaboration of the Faculty of Business and Management, Universiti Teknologi Mara, Malaysia, Mauritius Institute of Education, Mauritius, University of Sargodha, Pakistan, and Khulna University, Bangladesh.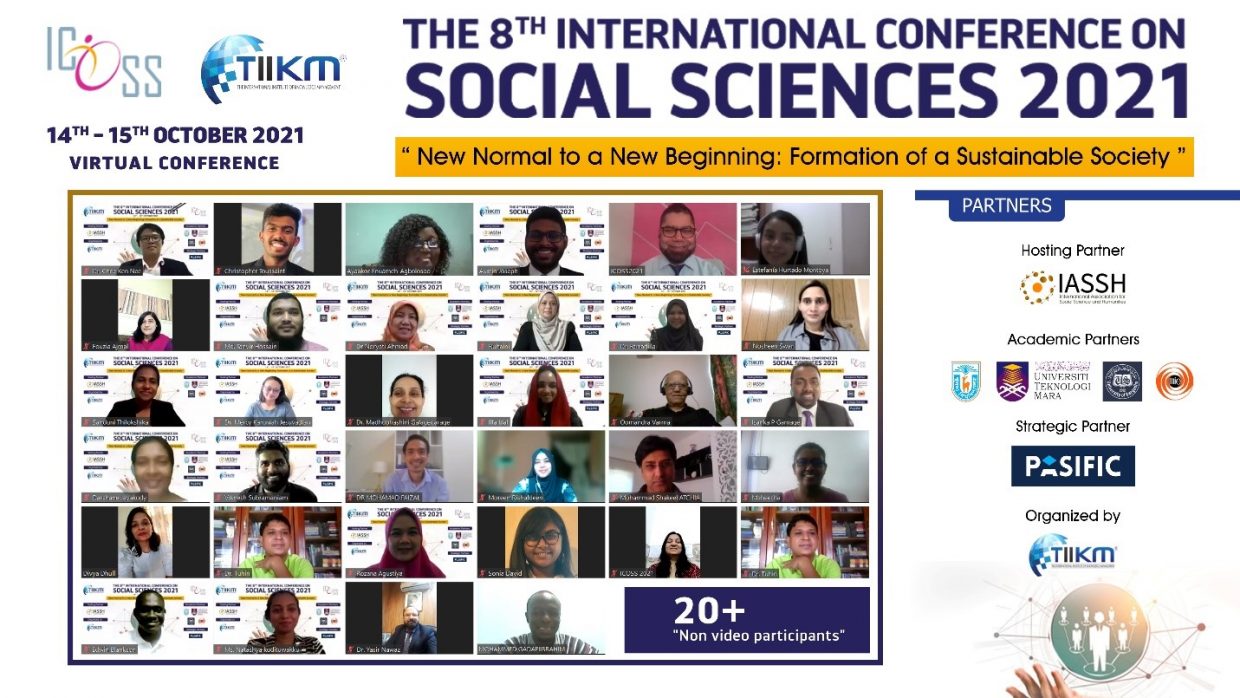 The conference provided an opportunity for delegates to share their valuable knowledge and experience in Social Sciences from various perspectives.  Moreover, the conference welcomed 60+ Participants from 20+ Countries around the world including New Zealand, Malaysia, Mauritius, Pakistan, Bangladesh, Sweden, Singapore, Japan, Sri Lanka, Greece, South Africa, United Kingdom, Brazil, Thailand, Philippines, Ghana, Australia, Indonesia, Turkey, United States, and Nigeria.
ICOSS 2021 comprised of Ten (10) Technical Sessions, Interactive Workshops, World Renowned Keynote Forum, Panel Discussion and Networking Sessions. The conference had representation from every continent and regions across the world, to share views and ideas on Social Sciences, network with international colleagues and made the conference a meaning the full opportunity for engagement.
The Overall Best Presenter and Session's Best Presenters were announced at the Awarding Ceremony. The Overall Best Presenters of ICOSS 2021 Conference was Dr. Tejwant Chana Mohabeer from Mauritius Institute of Education, Mauritius. Session's Best Presenters were:
Education And Society: Dr. Nazeerah Sheik Abbass, Mauritius Institute Of Education, Mauritius
Technology And Entrepreneurship: Danielle Nel-Sanders, University Of Johannesburg, South Africa
Philosophical Thinking And Social Transformation, Chanda Sk, Khulna University, Bangladesh
Development, Economics And Well-Being: Estefanía Hurtado Montoya, Eafit University, Colombia
Conflict, Gender And Peace-Building: Devina Neogi, Ramaiah Public Policy Center, India
Governance And State Policies, Dr. Tejwant Chana Mohabeer, Mauritius Institute Of Education, Mauritius
Media, Communication: Clarke Sean, Maharshi Adhyatma Vishwavidyalay, India
Health And Community: P. K. G. Iruni Lavangi Ransinghe, The Open University, Sri Lanka
Ethnicity, Identity And Relationships: Syarifah Nuraini, Ministry Of Health, Indonesia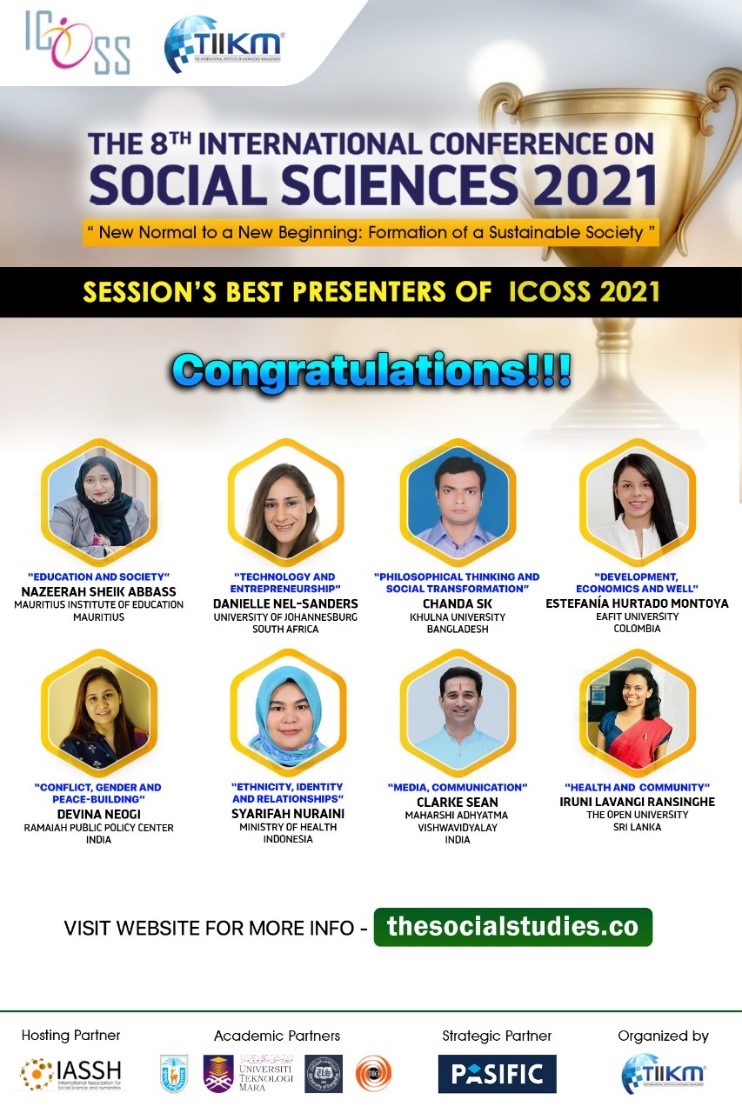 Overall, ICOSS 2021 Conference was concluded in a very successful note. Even though the Conference was fully virtual, all the participants had the opportunity to network, share knowledge, and excel in their research career. The 9th International Conference on Social Sciences 2022 is scheduled to be held from the 15th – 16th of September 2022.
We welcome you to Join ICOSS 2022!!!
For more details visit our official website https://thesocialstudies.co/