Women & Gender
" Gender equality is critical to the development and peace of every nation "
– Kofi Annan –
This is an important branch of study that expresses the stance of the gender and its identity in the society. This research area focuses on women's studies, men's studies and queer studies stressing on the importance of their existence, their freedom of expression with regards to exercising rights pertaining to their form in nature. The significance of this study is to explain the space that is designated for a particular form of gender and the matters in relation to the same ensuring no deprivation happens on the grounds of treatment.
The Conferences based on this branch of study does involve the perceptions confined to territories discussed in speaking of how things happen in their own nations and in the matter of liberty that is awarded to practice. Society plays an important role in this field of study as criticisms are a popular barrier that requires adequate research to be carried out to prove the viability of exercising an option successfully. TIIKM Conferences provide that stage to have a say on the plight and the issues that are currently underway across different parts of the world with the aim of achieving global sustainability.
Conference in line with Women & Gender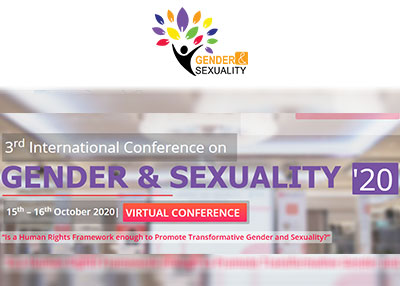 The 3rd International Virtual Conference on Gender and Sexuality 2020
15th – 16th October 2020 on Virtually 
The conference solicits contributions of abstracts, papers, and posters that address themes and topics of the conference, including figures, tables, and references of novel research materials. We welcome any relevant and insightful contribution, from classic presentations to proposals for workshops, topics for debates, panels or round tables, brainstorming sessions for creating policy materials or research instruments, sharing of event-appropriate professional or personal experience, all the way to meaningful forms of artistic expression (film, poetry, photography exhibitions etc.)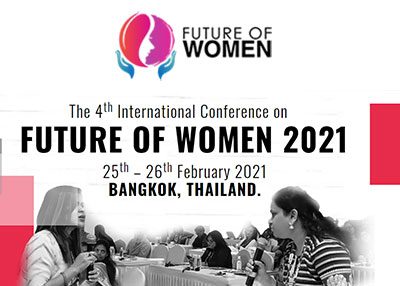 The 4th International Conference of Future of Women 2021 (FOW 2021)
25th – 26th February 2021 in Bangkok, Thailand
While significant gains have been made to empower women worldwide, great challenges remain. Here in the 4th International Conference of Future of Women 2021, we once again gather to discuss feminist futures and the unfinished agenda of women's equality. Featuring keynote forum, panel discussions, workshops and one-on-one interviews,networking dinner and post conference tours the Future Women 2021 brings together the voices and insights of a diverse range of delegates from around the world by offering inspiration, motivation, and networking.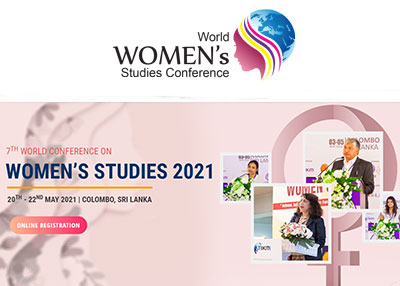 The 7th World Conference on Women's Studies (WCWS 2021)
20th, 21st and 22nd May 2021 in Colombo, Sri Lanka
Welocome to the 7th World Conference on Women's Studies (WCWS 2021) hosted by the Asian-African Association for Women, Gender and Sexuality (AAAWGS). Women's Studies as an interdisciplinary field is undergirded by bodies of feminist thought, which intern as shaped many academic disciplines and policy initiative as we strive for gender and sexual equality in homes, in the workplace, and in government. The WCWS 2021 takes up the challenge to understand our differences and to work across them, listening and learning from one another, discussing, debating and moving toward the goals of equality, equity and stainability on this planet that we inhabit together. We hope WCWS 2021 unites diverse researches and case studies from all over the world, in parallel sessions while offering many networking and publishing opportunities.